The Drug Free, Surgery Free Solution.
What is Class IV Laser Therapy
Class IV laser therapy deliver specific red and near-infrared wavelengths of laser light to induce a therapeutic effect within the body. These include increased circulation, decreased swelling, reduction of pain and enhanced tissue repair. Laser therapy has been used in Europe since the 1970s and was cleared by the United States Food and Drug Administration in 2002. Summus Medical Laser has become the preferred choice for thousands of practitioners worldwide.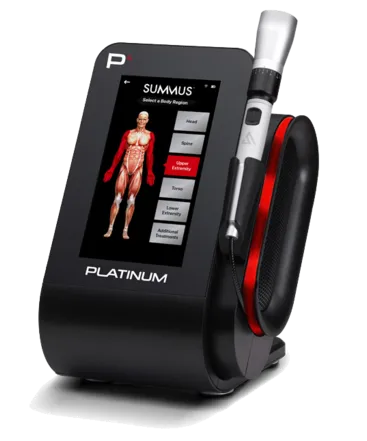 Numerous Studies show that Laser Therapy can help with:
• Tendinopathies
• Carpal Tunnel Syndrome
• Myofascial Trigger Points
• Tennis Elbow
• Neck Pain
• Lower Back Pain
• Rib Pain
• Ligament Sprains
• Muscle Strains
• Repetitive Stress Injuries
• Plantar Fasciitis
• Osteoarthritis
• Shoulder, Back & Knee Pain
• Post Traumatic Injury
• Fibromyalgia
• Diabetic Neuropathy
• Heel Spur Pain
• Ligament Sprains
• Morton's Neuroma
• Repetitive Stress Injuries
• Plantar Fasciitis
• Deep Ederma/Congestion
• Diabetic Foot Ulcers
• Sports Injuries
• Auto & Work-Related Injuries
Laser therapy can relieve pain, reduce swelling and increase range of motion.
Benefits of Laser Therapy
Class IV laser therapy is proven to bio stimulate tissue repair and growth. The Platinum Series therapy lasers by Summus Medical Laser accelerate the healing process by decreasing inflammation, pain, and scar tissue formation. In the management of chronic and acute pain, Class IV laser therapy can provide dramatic results.
Therapeutic Effects
The painless application of laser energy promotes increased circulation by drawing oxygen and
nutrients to the affected area. This creates an optimal healing environment reducing inflammation, swelling, muscle spasm, stiffness and pain. As the injured area returns to normal, pain is relieved, and function is restored.
Cellular Effects
During treatment, infrared laser light interacts with tissues at the cellular level. Increased metabolic activity within the cell stimulates the transport of nutrients across the cell membrane initiating increased production of cellular energy (ATP). This leads to a cascade of beneficial events promoting the acceleration of the healing process and reduced pain.
How often should a patient be treated?
Acute conditions may be treated daily, particularly if they are accompanied by significant pain. More chronic problems respond better when treatments are received 2 to 3 times a week, tapering to once a week or once every other week, with improvement.
How many treatments does it take?
This depends on the nature of the condition being treated. For some acute conditions 4 to 6 treatments may be sufficient. Those of a more chronic nature may require 6 to 12 (or more) treatments. Conditions such as severe arthritis may require ongoing periodic care to control pain.
Summus Laser Therapy Packages
1 treatment………..$85
3 treatments………$250
6 Treatments......$350
12 Treatments...........$550
For more information about Summus Laser Therapy and products used, visit summuslaser.com.
What is Laser Therapy?
Cold laser therapy or low-level lasers send accurately measured, non-thermal photons of light to the appropriate treatment sight.
These light waves supply energy to the body as they penetrate up to 4 inches of the skin's layers, optimizing the immune responses of the blood.
This has anti-inflammatory and immunostimulate effects, supplying vital oxygen and energy to every cell.
This enables the cells to heal and repair themselves at a greatly accelerated rate.
Is Laser Therapy Safe?
Low level therapy is very safe. It is FDA approved and has been used for over 20 years internationally.
Your clinician will thoroughly examine your records, evaluate your condition, and design a treatment
program if laser therapy is appropriate for you.
Is Laser Therapy Painful?
For most people, laser therapy is quite passive. 3-5% have reported a slight tingling or tapping in a nerve or on a nerve pathway.
Some feel a slight sensation of warmth. The most noticeable sensation is of the probe head of the laser as it comes in contact with the skin.
The majority of patients, however, feel nothing during a treatment.
Cold Laser Therapy Pricing
3-6 Minutes………..$35
6-15 Minutes………$75
Package of 3 (15 minute sessions)...........$200
Package of 6 (15 minute sessions)...........$300
Package of 12 (15 minute sessions)…………$500
If you would like more information about Cold Laser Therapy and their products used, visit microlightcorp.com
What is Rockblade Therapy?
Over time in our bodies, minor injuries and trauma form adhesions within the fascia surrounding the muscle. These adhesions cause our muscles and deeper tissues to not move as well. If adhesions form along nerve paths then nerve irritation can occur. Rockblading, or any instrument-assisted soft tissue works, works by reducing adhesions within the fascia and increases healing rates of targeted tissue. This occurs by the clinician applying longitudinal pressure along the course of a tissue. The tools facilitate the clinician's ability to detect altered tissue properties, as well as facilitate the patient's awareness of altered sensations within the treated tissues.
Benefits of Rockblade Therapy:
-Corrects muscle imbalances -Improves joint range of motion -Relieve muscle soreness and joint stress -Increases sensitization to the area treated -Improves tissue healing/blood flow to an area Call our office in regards to setting up an appointment for a Rockblading session!
Trigger Point Injections/Joint Injections
Helps to alleviate pain caused from active myofascial based trigger points. A combination of Lidocaine and Ozone will be used.
Despite the simplicity of heat and cold therapies, the two (in correct combination) can help relieve low back pain, muscle strains, and even arthritis.
Heat Therapy Benefits: - Applying heat to your tissues increases your circulation or blood flow and causes your connective tissue to become more flexible. - Helps reduce joint stiffness, pain and muscle spasms - Helps with bringing down inflammation and congestion in your tissues.
Cold Therapy Benefits: - Vasoconstriction of your blood vessels causes a reduction in the blood volume to the site of your injury, resulting in reduced swelling. - Vasoconstriction also decrease the likelihood that your cells will die due to lack of oxygen
With functional movement assessments, a 30 minute evaluation focused on screening an individual's quality of movement. This screening tool will help to identify common flaws in biomechanics and underlying weakness and instability of joint systems. This is extremely important for anyone who is looking to enter or re-enter the exercise world either for the first time or after an injury. Also imperative for all athletes who are frequently nagged by injuries. It is best to perform this when the person is not in pain.